What if you had the secret to LOOK. PERFORM. FEEL. AMAZING
Restore Health and Order in 3 Steps
35 minutes per day
PURE WAVE
Alkalizes blood
Improves blood flow
Improves lymphatic flow
O2 cells via ion transport
Brings cells to 25 mV
EMF clearning
Detoxification
Grounding
Reduces pain
HYPERMAXX
Oxygen-rich environment
Decreases inflammation
Stimulates Immune system
Accelerates healing
Increases athletic performance
Helps O2 deficient illnesses
Optimal O2 transport when paired with PEMF therapy
paired with PEMF therapy
THERALIGHT 360
Reduces oxidative stress
Decreases Pain
Increases Energy/ ATP
Decrease inflammation
Increases muscle recovery
Improves metabolism
Improves mood
Improves Sleep
Anti aging effects
And so much more…
Video what is superhuman protocol
Magnetism + Oxygen + Light
IN THAT ORDER
Without magnetism, oxygen and light we cannot survive. With them we are "Superhuman." The benefits are compelling no matter if you're 80, in a wheelchair, or a Gold Medal Olympian. Magnetism, oxygen and light created life.
When you expose the body to these powerful natural forces, in the correct order, you can restore its order.
WHY ARE THESE ELEMENTS SO CRITICAL?
Without magnetism, oxygen, and light we cannot survive. Earth's magnetic field has declined 80% in the past 4000 years and we have further disconnected from it by wearing shoes and isolating from the ground. Earth's Oxygen levels are dropping and the atmosphere is filling with hydrocarbons from industry. We've blocked the critical light by wearing clothes and living in buildings. We are fish out of water. Our bodies are starving for the very elements that created us without even realizing their importance.
WHY IS THE ORDER SO IMPORTANT?
Each technology has a profound effect on the next. Charging the cells helps to alkalize the blood and separates the cells them allowing for more oxygen absorption. This is the immediate window of opportunity for oxygen training EWOT (exercise with oxygen)to flood the tissues and plasma. EWOT can be 30% more effective after PEMF (pulsed electromagnetic field) Therapy. Light is now optimized because of the additional O2 in the blood plasma and there is more cellular surface (cells now repel vs. clump). This creates a window of opportunity for optimal light absorption and oxygen uptake to reverse the oxidative stress and optimize APT (energy) production.
STEP 1- MAGNETISM
Pulsed Electromagnetic Field (PEMF), also known as low field magnetic stimulation. It is a type of therapy that promotes cellular communication, which in turn enhances self-healing and wellness.
PEMF technology has been more researched by NASA and doctors than just about any other available technology. There are literally hundreds of PEMF devices delivering this invaluable life force. The PUREWAVE PEMI Portable Electromagnetic Induction – has been found to be the best. Simply lay on the body mat for to fully recharge the body at the cellular level. This is your Bio-Charger! Unlike high power systems, this product can be used safely by anyone at any age with almost any condition.
HOW DOES IT WORK? By Supercharging Your Cells
Damaged, injured and dysfunctional cells are areas of the body that have become lower in cellular energy charge. Lower Energy levels in cells, is the cause of Lower Quality Production from those cells. Cells repair, and replace, and duplicate brand new cells (over the entire body) every 3 to 7 months. New replacement cells that have been produced by cells with low energy, will perform poorly, providing less quality work than higher energy cells. THIS IS CALLED AGING & DISEASE.
The human body consists of trillions of cells harmoniously working together.
The PureWave PEMF System naturally restores cell functioning and improves weak functional cycles by using Extremely Low Frequency (ELF) programs that are equivalent to the natural frequencies of the body. The currents of these natural frequencies are carried throughout every area of the body, creating a process of restoration and stimulation that permeates every cell.
By strengthening and stabilizing the body's previously weakened fields; one can receive a multitude of benefits.
Elimination of Electrosmog; EMFs
Increased Ion Transport
Intensified Vascular Release of Nitrogen Monoxide (NO)
Improved Circulation and Waste Removal
Increased Oxygen Diffusion 80-900% within 8 to16 Minutes and Lasts 8to12 Hours
BEFORE & AFTER AN 8 MINUTE SESSION
Dark field microscopy before session During 5 min session 15 min after session Several hours after
STEP 2 OXYGEN
Stage two is EWOT (Exercise with Oxygen Therapy), the body is able to create an oxygen-rich environment that improves overall health by getting the heart pumping and delivering oxygen to healthy cells. Exercise for up to 15 minutes, breathing 93+% O2, while interval sprinting. Tissues and micro vessels come alive when bathed in oxygen.
Oxygen training is known as EWOT (Exercise With Oxygen Training) and is being done worldwide to super-oxygenate the body. Deconditioned and super athletes alike are seeing benefits beyond compare. EWOT has also been adopted by Physicians and Super egeneration Centers worldwide.
If done after PEMF it's even more effective, as O2 transport is optimal. Without PEMF this is not possible. If your cells have a low voltage (low pH) most cells are clumped together and not only is oxygen uptake minimal, but blood flow is drastically reduced. PEMF followed by EWOT HyperMax Oxygen will offer the most effective protocol known in the industry.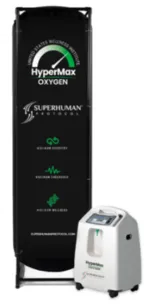 Dr. Manfred von Ardenne was an early pioneer in discovering the effects of oxygen on the human body. His many years of research culminated in his book "Oxygen Multistep Therapy," an in-depth technical review of his findings. Chief among his findings is that oxygen not only enhances performance, but it is also boosting immunity. Dr. von Ardenne's work inspired many to study and improve upon his techniques and advancements in the field. Read the full body of work Oxygen Multistep Therapy: Physiological and Technical Foundations. © 1990 Georg Thieme Verlag
Benefits of Exercise with Oxygen Therapy:
Creates an Oxygen rich environment
Decreases inflammation
Stimulates Metabolism
Stimulates Immune System
Accelerates Healing
Helps O2 deficient illnesses
Mental Clarity
Enhances athletic performance and muscle recovery
Optimal O2 transport when paired with PEMF therapy
STEP 3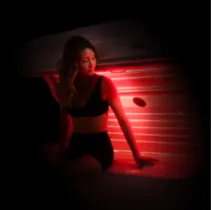 The third step is Photobiomodulation (PBM Therapy) is the application/exposure of red and near infra-red light over injuries or lesions to improve wound and soft tissue healing, reduce inflammation and give relief for both acute and chronic pain.
This is a relaxing non thermal (cool) session of multiple wavelengths of light (Red 635nm, NIR 810nm, 850nm, and 940nm). Photons (light) are absorbed by the cell which helps remove damaging free radicals to restore energy production at the cellular level. When this is achieved, inflammation is reduced and the healing process is optimized.
Photobiomodulation therapy (PBMT) promotes tissue repair (skin wounds, muscles, tendons, bones, nerves), reduces inflammation or reduces pain. PBMT has been the subject of systematic reviews for a range of musculoskeletal pathologies with favorable conclusions reported by The Lancet, BMJ, International Association for the Study of Pain and the World Health Organization. It is a non-invasive therapy and, unlike drugs, it has no side effects. PBMT is not an ablating or heating based therapy; it is more akin to photosynthesis with light being absorbed by the cells and catalyzing chemical changes.
When our cells are stressed they produce a molecule called Nitric Oxide. This molecule blocks the receptor site that Oxygen belongs in during the respiratory process — the process of turning sugar in our blood into cellular energy. Usually, through rest and the consumption of anti-oxidants, the body is able to dispose of excess Nitric Oxide. However, when stressed the body does not have the capacity to remove enough Nitric Oxide. This leads to molecules known as "reactive oxygen species" being leaked into the cell. This is known as "Oxidative Stress." Reactive oxygen species are toxic and trigger mechanisms for inflammation, cell death and the expression of genes responsible for cancer, Alzheimer's, osteoarthritis and more.
Unlike injections and prescriptions which mask the symptoms and do nothing to treat the injury, High-Intensity Light Therapy delivers light energy units, in the form of photons, to damaged cells. These photons, absorbed by the cells through light therapy stimulate the mitochondria to accelerate the production of Adenosine Triphosphate (ATP). This biochemical increase in cell energy is used to help transform cells from a state of illness to a stable, healthy state. The result is it reduces inflammation, increases blood flow, stimulates tissue growth, and helps aid the body's own healing process.