EXPERIENCE THE HEALING POWER OF LIGHT
MedX Phototherapy is also known as light and laser therapy and is a safe and highly effective treatment method that offers a rapid, drug free, non-evasive healing solution. Effectively treating head, neck and back pain, arthritis, muscle strain injuries, joint twists and sprains, tendonitis, plantar fasciitis, carpal tunnel, golfer elbow, tennis elbow and more.
Phototherapy is a "therapeutic physical modality, using photons (light energy) from visible and infrared spectrum for tissue healing and pain reduction" as defined by the North American Association of Laser Therapy (NAALT). Also known as low level laser therapy (LLLT) or Cold Laser therapy, the therapeutic light energy can be produced by either LED (light emitting diodes). SLD (superluminous diodes), or low level laser diodes.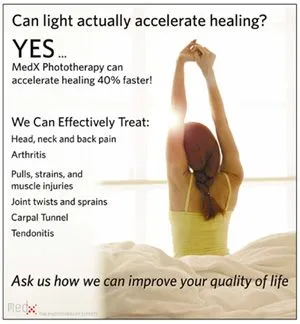 WHAT ARE TREATMENTS LIKE?
CAREFREE.
While you comfortably relax, therapeutic light energy can be effectively administered to one or more of your injured areas with our safe, low-level laser or clusters. The average treatment time takes 5-15 minutes. MedX Phototherapy can be used on patients of all ages and safely administered over pacemakers, implanted defibrillators, shunts or plastic/metal implants.
HOW DOES IT WORK?
NATURALLY.
Phototherapy is similar to photosynthesis in plants; sunlight is absorbed into the plant and converted into energy that the plant uses to grow. Developed over 35 years ago, Phototherapy is a remarkable process that uses light to penetrate the skin's surface and underlying tissues. Much like Photosynthesis, MedX Phototherapy provides light energy to stimulate your body's natural healing process, safely and easily.
IS THIS A POSSIBLE ALTERNATIVE TO DRUGS OR SURGERY?
ABSOLUTELY.
For some conditions, this innovative, therapeutic healing method often eliminates the need for painful debilitating surgeries and drug therapies which are usually accompanied by harmful side effects. MedX Phototherapy has proven effective for conditions that are difficult to treat.
IS IT SAFE?
VERY.
There are no known side effects of Phototherapy. Hundreds of scientific studies have proven it a safe and highly effective way to treat a variety of conditions. MedX Phototherapy is FDA and CSA certified and uses superluminous diodes (SLD) clusters and class IIIb laser technology. MedX products are used by practitioners in clinics, academic facilities and hospitals as well as by professional athletes.
Mechanism of Action
Light energy penetrates through the skin and is absorbed by the mitochondria of cells of all types. Light energy is converted into bio-chemical energy, restoring normal cell function. This is also known as Photobiostimulation.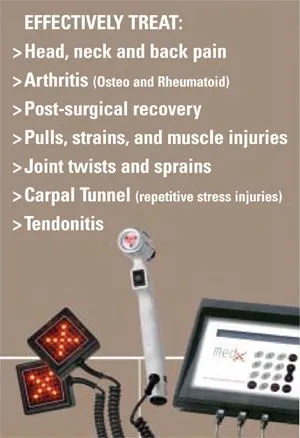 Effects of Phototherapy
Increases circulation and angiogenesis
Reduces or Eliminates Acute and Chronic Pain
Reduces Inflammation and Swelling
Stimulates and Improves Nerve Function
Strengthens and Repairs Bone and Soft Tissue
Increases Mobility and Muscle Function
Conditions Treated with Phototherapy
(based on the research and literature)
Arthritis (Rheumatoid and Osteo)
Carpel Tunnel Syndrome
Repetitive Stress Injuries
Acute and Chronic Pain
Post operative
Neuralgia
Fibromyalgia
Muscle tension/spasms
Head, Neck, Back
Hip, Sacroiliac
Shoulder, elbow, wrists
Soft tissue injuries, strains, sprains
Swelling and Edema
Inflammatory conditions
Tendonitis
Bursitis
And More..
PATIENT BENEFITS OF PHOTOTHERAPY INCLUDE:
Increased:
Healing (up to 40%)
Blood and lymph flow (decongestion) & formation of capabilities
Tensile strength & quality of repair
Osteoblast production-accelerated
Decreased:
Pain
Inflammation
Swelling
Muscle Spasms and tension